Spring return self closing ball valve introduction
Spring return self closing
ball valve
is automatic reset, automatic return, two-piece structure, thread and flange connection.Spring return self closing ball valve spring automatically returns to open and close only needs to rotate 90 degrees operation and the small rotation moment can connect the medium circulation.The characteristics of the Spring return self closing ball valve is in the spring on the handle, in the spring of the handle into consideration to the long-term use can lead to the present situation of the spring is stretched or pull dead, in the interior design for spring adjustable tension and firmness, and the use after a period of time, which can spin down the lever, the internal nut tighten, (such as the need to slowly close to loosen the nut, let a lighter spring, to the effect of slow closing) the design of Spring return self closing ball valve is the traditional insurmountable.Spring return self closing ball valve in access, tank bottom, the use of mechanical equipment is very wide, compared with the traditional two-piece ball valve, not only can save trouble and effort, in some equipment can also prevent the loss of fluid caused by forgetting to close the valve.
Spring return handle ball valve is suitable for chemical industry, petroleum, electric power, pharmacy, beer, food, dairy beverage, cosmetics and engineering pipeline and other fields.
Spring return self closing ball valve
Specification:
| | |
| --- | --- |
| Product Name | Spring return self closing ball valve |
| 1. Material | SS304/316/304L/316L ( CF8/CF8M/CF3/CF3M), WCB, etc. |
| 2. Size | 1/2~4 inch ( DN15~DN100) |
| 3. Port | Full Port |
| 4. Working Pressure | PN10-PN100 CL150-CL600 |
| 5. Connection Ends | Flange,SW,thread,clamp |
| 6. Working Temp. | -20~150ºC, or according to customer requirements for different industry. |
| 7. Suitable Medium | Water, Natural Gas, Oil and some corrosive liquid |
| 8. Operation | Handle operated, Locking device is option |
| 9. Inspection & Testing | According to API598 |
Spring return self closing ball valve

structure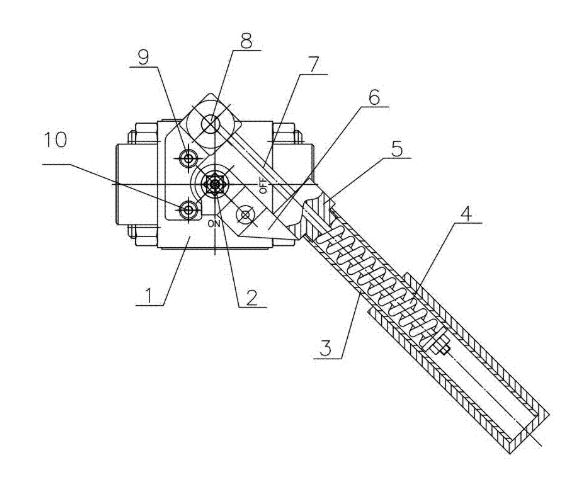 Spring return self closing ball valve
charateristics
1. The fluid resistance is small, and the resistance coefficient is the same as the pipe section of the same length.
2. Simple structure, small volume and light weight.
3. Compact and reliable, the sealing surface material of the ball valve is widely used in plastic, good sealing, and has been widely used in the vacuum system.
4. Easy operation, fast opening and closing, rotation of 90° from full open to full close, convenient for remote control.
5. Easy maintenance, simple ball valve structure, sealing ring is generally active, disassembly and replacement are relatively convenient.
6. Simple structure, light weight, low flow resistance.
7. Simple operation, fast opening and closing, long service life.
8. When the ball valve structure is fully opened or closed, the seat seal is isolated from the medium and is not easily corroded by the medium or damaged by friction.
9. Spring reset structure, reasonable design, strong practicality.