Four Way Ball Valve Manufacturer, China

Four Way Ball Valve factory and supplier.
Four Way Ball Valve is
offered with L-L port or Double L Port structure.
Four Way Ball Valve is
used when two right-angle diversions have to be done using one single valve.
Four Way Ball Valve
will have two inlets and two outlets at any given time. The balls inside the valve are precisely machined to achieve this objective. Our
Four Way Ball Valve
in Carbon Steel, Stainless Steel and others metal on special request. Four way ball valve selection covers Full Port (Full Bore), Flanged End, with Manual Hand Lever, Gear Box, Pneumatic Actuator, Electrical Actuator Operation.
Four Way Ball Valve has an L / T / X (Double L) / Straight Shaped Port Hole through the middle for suitable service condition. The different combinations of flow are shown in the figure. T Port Four Way Ball Valve connect any three ports, L Port Four Way Ball Valve connect any two side right angle port, X Port Four Way Ball Valve in side have two L Shaped Port in the ball that do not interconnect, it is also called as X Port Ball Valve. We also offering Four Way Ball Valve with either Pneumatic or Electrical actuator operated for automation.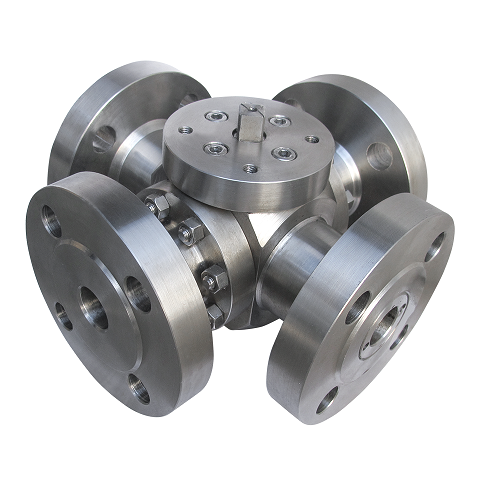 Four Way Ball Valve
Specification:
| | |
| --- | --- |
| Product Name | 4 way ball valve |
| 1. Material | SS304/316/304L/316L ( CF8/CF8M/CF3/CF3M),etc. |
| 2. Size | 1/2~16 inch ( DN15~DN400) |
| 3. Port | Full Port |
| 4. Working Pressure | 150LB~600LB |
| 5. Connection Ends | Flange |
| 6. Working Temp. | -29~180℃,-40~450℃ or according to customer requirements for different industry. |
| 7. Suitable Medium | Water, Natural Gas, Oil and some corrosive liquid |
| 8. Operation | Handle operated, Locking device is option |
| 9. Inspection & Testing | According to API598,JB/T9092 |
Four Way Ball Valve
Product Feature:
1. Floating ball, full bore.
2. ISO5211 mounting pad for option.
3. Blow-out proof stem design.
4. PTFE/RPTFE seat seal( Seat seal material could be decided by customer's request or according to valve's medium & temp. Condition).
5. Fire-proof and anti-static design if need.
6. Operation: Hand wheel, Worm wheel, Pneumatic actuator & Electric Actuator.
Four Way Ball Valve
(X port) structure: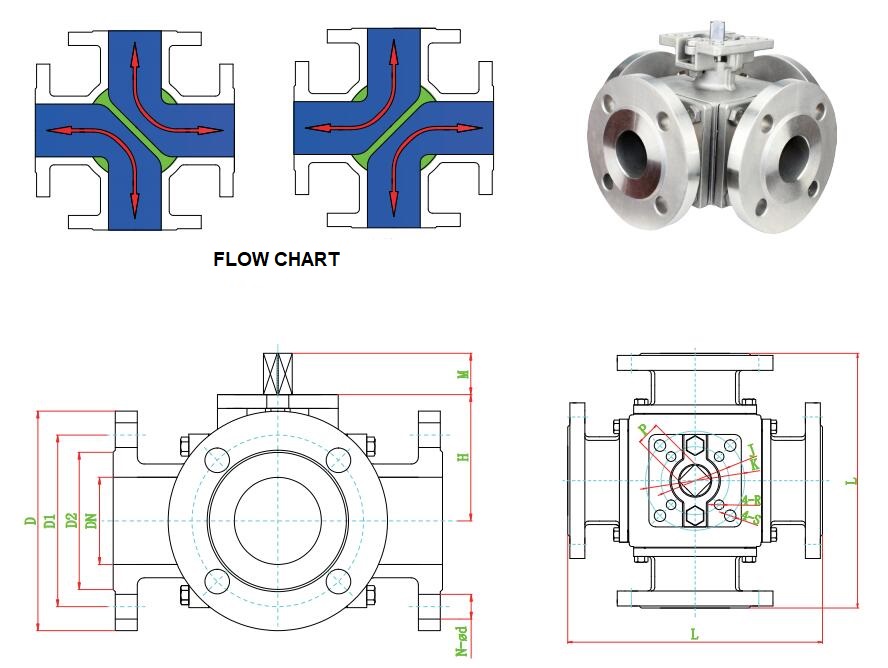 Four Way Ball Valve
(L port) structure: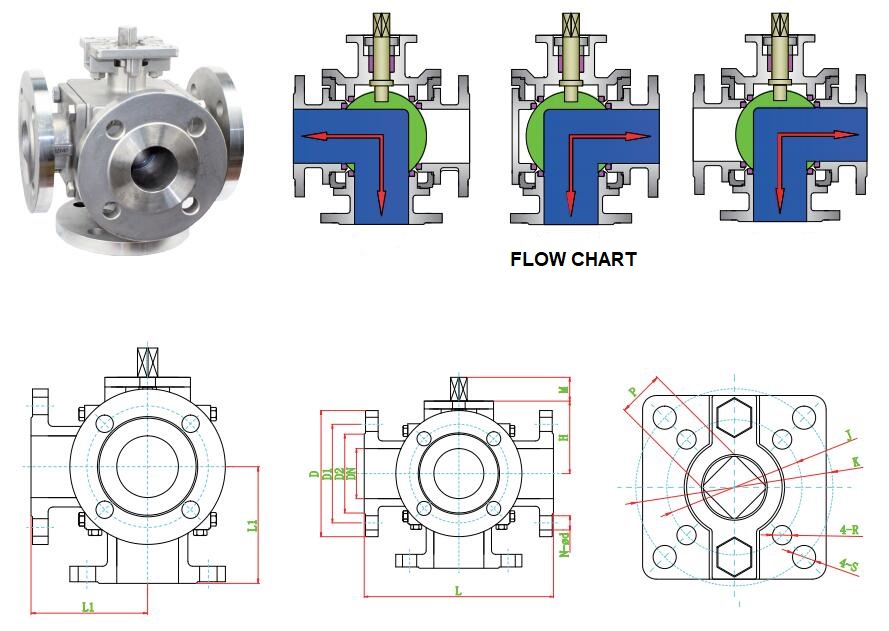 How Does A Four Way Ball Valve Work?
Four way ball valve is known as two-way four-way rotary valve, one valve can be a valve to achieve positive and negative water supply switch, every turn 90℃, water supply mode switch once, before the need for four valves, valve 1, 4 open, valve 2, 3 closed;When reverse water supply valve 2, 3 open, valve 1, 4 close, now use a four-way ball valve to replace, easy to operate.
Four
way ball valve is suitable for circulation system of liquid, gas, slurry and solid particle medium. Four way ball valve is used to replace the working principle of the manifold and valve group, which simplifies the procedure, facilitates the operation, reduces the cost, facilitates the control and has good synchronization
Four Way Ball Valve Application
1. In oil, natural gas, coal and ore mining, refining and processing and pipeline transportation system;
2. In the production of chemical products, medicine and food;In hydroelectric, thermal and nuclear power generation systems;
3. In the water and drainage, heating and gas supply systems of urban and industrial enterprises;In the drainage and irrigation system of farmland;
4. Four way ball valve is an important mechanical product closely related to production construction, national defense construction and people's life.
5. Four way ball valve is used in all kinds of pipeline systems to cut off or connect the medium flow, so that the medium is transported to each designated point in accordance with a predetermined program.